She's a musician, makeup artist, and business owner, with a smile that could light up an entire room: Meet Trinity Anderson
by Mercedes Brown

Posted on February 1, 2018 at 07:00 AM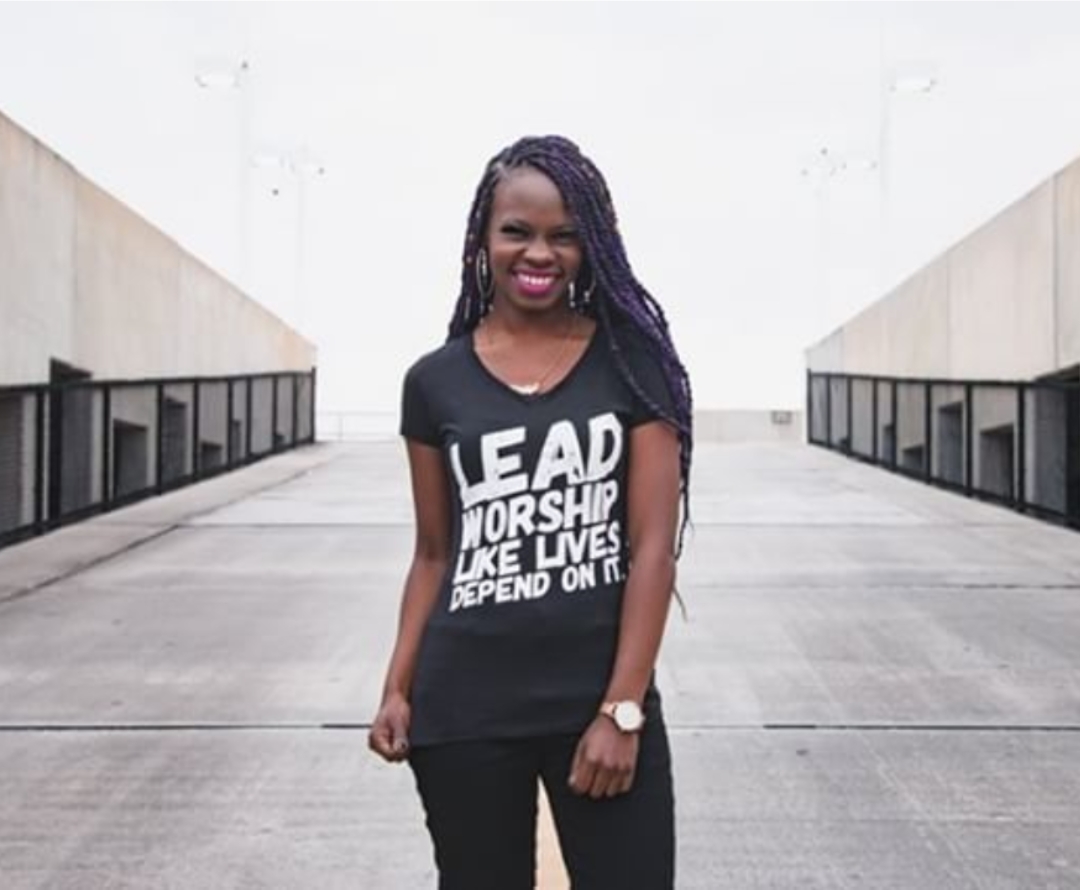 Hey Trinity! Thanks so much for taking time out of your busy schedule to connect with us here at #GirlFaith. I see you've just launched a new clothing line which looks ahhhhhmazing. You are truly walking with purpose.
1) So, tell us a little about who you are and what it is you do?
I am Trinity. I'm a daughter. I'm a friend. I'm a sister, a princess and even sometimes considered a Queen. I'm a lover, a very strong, God-fearing woman, a mighty warrior in the Spirit and a chosen vessel for God's use. I say all of this not to sound awkwardly cocky and over-confident, but to remind others of who THEY are. I primarily lead worship! Not just with singing, but with my life. I'm also an entrepreneur, a vocal coach, a wardrobe stylist and make up artist.
2) What Church do you go to?
I attend Deeper Fellowship Church in Orlando, FL under the pastoral leadership of my spiritual dad, William McDowell. We're almost 4 years old now and God is truly doing something special there.
3) What is YouByTrinity?
Your Own Uniqueness (YOUbyTrinity) is an image artistry company that I officially started about one year ago with aims to help people understand their identity in Christ. It took me a while to get it, but I finally know who/whose I am and I feel like the lack thereof is such a common thread in this world. So, by way of the Word (mainly Psalm 139:14) we remind others that they are uniquely made people because of our Master Creator and His incredibly intentional workmanship. Concurrently, I feel that what we understand from the inside should reflect our outward appearance. So YOUbyTrinity also specializes in wardrobe styling as well as makeup artistry.
4) I remember stumbling across your Instagram page and thinking wow, this girl can saaaang lol. How long have you been singing?
LOL! Thank you so much!! I've been singing since the age of four. My dad is a Suprintendent in a C.O.G.I.C. church so I pretty much grew up straight in the back pew and was tossed into the choir (without a choice) by the time I was able to speak. Lol Grateful for that, though!
5) I love how you openly share your faith with the world. What made you want to share your faith?
Well, it's just like when you go to a restaurant and find something new that you LOVE! For me, it's the Pizookie, cookies and ice cream dessert from BJ's Restaurant and Brewhouse. OMG!!! I'm a sweets fanatic, so it's pretty much my guilty pleasure. Lol. Needless to say, when you find something you love, you pretty much CAN'T HELP, but share it !!! So that is TRULY how I feel about Jesus. He has wrecked my life in the most amazing way, so I live to tell everyone about Him. He's been so good, so faithful. How can I not give credit where it's due?
6) On your website www.IAmTrinityAnderson.com you talk about growing up in church, learning about God but never having any desire to get to know him intimately. When did that change? And what advice do you have for the teen girl reading this who feels the same way?
I believe my desire to intimately know the Lord grew once I saw how - many others were also so passionate about their relationship with Him. I realized then that I wanted what they had. They would clap and scream and shout and cry and i just felt so dry. So my advice to the teen girl who feels that way would be to do what I did… "Oh taste and see that the Lord is good…" - Psalm 34:8. I prayed and asked the Lord to help my desire for knowing Him to grow. I asked Him to reveal himself and encounter me and those were the early stages of me first hearing His voice. I would encourage every teen girl to do the same. Ask Him, sit quiet and listen.
7) In your story you share how you were ready to get away from all the "church stuff" and I know so many girls can relate. How do you make going to church or spending time with Jesus desirable?
I honestly don't have to "make" going to church desirable. Once you taste and see, you find that the presence of God, whether at church, at home, in the car, in the shower… and really anywhere is the most fulfilling place that one could ever be in. There's so much peace there. I'd also, like to insert however, that when I wanted to get away from all of the "church stuff", it was because my eyes were focused so much on what I was doing FOR God, rather than just wanting to spend time with God himself that led to those frustrations. Check your posture and motives… and watch the Lord transform those desires.
8) We all have a unique story.....and I love How you openly share your faith in Jesus. How did you shake the mindset that says "Don't tell anyone your story, keep it to yourself"?
Very easily, actually! When we go through trials or even triumphs, we sometimes think that we're the only one who's going through it... but that's not true! So, as i looked back, I noticed that each time I would make it through different things, it was almost like clockwork that someone comes to tell me how they are going through the same thing! It was then that I quickly realized that my story and testimony is not just about me. It's so that I can be a pillar and an encouragement to others! So I constantly share my stories so that others can be uplifted and inspired!
9) What are your thoughts on social media and how it affects young girls?
My views on social media has drastically changed. I used to try to stay away from the socials because it would promote ONE type of girl that could be "successful". Now a days, the social world is FULL of people who stand for individuality and uniqueness! So I believe, if used correctly, social media can be a powerful tool for personal growth. I believe that it's all in the way a girl receives what they see into their heart. Guard yourselves from unhealthy discontent and coveting others' mirage of green grass when scrolling. Concurrently, be inspired and see a new bar to reach that you can set goals for your own self while keeping your focus on your own grass.
10) Have friendships and relationships changed since you started following Christ?
Absolutely! I have lost MANY friendships and relationships because some people can't handle the amount of accountability that comes with a lifestyle devoted to Christ. Tough, but not the end of the world.
11) In your opinion, what does it mean to walk by faith?
Walking by faith to me means not being able to see what's ahead, but being at full peace because of my wholehearted trust in God. The peace comes from knowing He won't fail.
12) Do you have any tips for young girls reading this who might be battling depression, anxiety or suicidal thoughts?
Absolutely.

For Depression: Remember that the Joy of the Lord is your strength! (Nehemiah 8:10) Joy comes from knowing that God can NOT fail. His promises are sure and He is working His perfect plan for you. Get up!! Turn on joyous music and let your heart be glad !!!

For Anxiety: Be very still and KNOW that He is God. (Psalm 46:10) He's working everything out for your good, which means YOU don't have to. Take a deep breathe and rest in that fact. Do what you can do and TRUST GOD for the rest.

For Suicidal: Honestly, if i could, i would literally sing life over you because God does... (Zephaniah 3:17)

Either way, just know that you have SO much to live for!! Do NOT give up. I pray that the Spirit of God would remind you of your worth and your purpose on this Earth. I pray that He will block every lie of the enemy from your ears!

Your cries are being heard in the Heavens, it may not look like it right away, but don't try to beat God to the finish line.

Wait for Him. He loves you SO much. Please don't give up.
13) How do you continue to boldly walk with Christ (Favorite scriptures, songs, activities etc)?
My favorite scripture is "Blessed are the pure in heart, for they shall see God." - Matthew 5:8. With such a strong desire to see Him, I live by this scripture.

I'm a musician so choosing a favorite song is pretty impossible. Lol! To give an answer, though... I would just say any song that speaks to my spirit that day. Happy when I'm happy and hopeful when I'm sad! Music is extremely important because it has the power to change atmospheres. So I'm VERY careful with what music I let into my moments. I also care less for music that doesn't reach me in the deep places. Most of the Gospel greats of this time are my favorites. If I began naming artists, the list would literally be forever long... but if you're REALLY interested, you can scope through my socials. I post about the ones I love!

I also love going to the beach!!! I was born and raised in St. Petersburg, FL and would ALWAYS be at the beach growing up. I consider myself a mermaid because I truly don't do well without water nearby. I also LOVE shopping; for myself AND for others. It often gives me the release I need from working so hard and just helps me to feel fresh! I love change.
14) Lastly, what are your thoughts on girls having a social media outlet like #GirlFaith designed to bring them closer to Christ?
I think that social outlets like #GirlFaith are AMAZING tools that can really help other girls not to feel alone. It's outlets like these that for sure keep me going on a daily basis! My social media overflows with positive encouragement and it keeps my perspectives healthy and my heart full. My advice is to find as many as you can so that you can stay encouraged and inspired!!
CATEGORIES